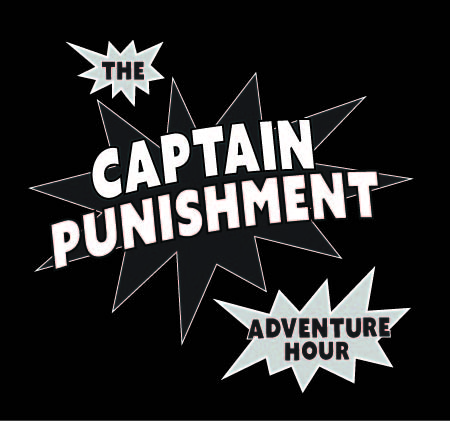 IN THIS ISSUE:
"THE GIGGLER'S RETURN OF THE REBOOT!"
Part 4: "The Origin of Captain Punishment"
Finally the long awaited ORIGIN OF CAPTAIN PUNISHMENT as told by the infamous GIGGLER. How did Sergeant Francis Townhouse of the SKAGG CITY POLICE DEPARTMENT become the hero we know and love? What happened to his beloved wife SUZIE TOWNHOUSE and their 'anomaly' son BASTY? Who are VINNY 'THE GREASE' BARBARINO and DARTBOARD and how do they fit in? What does BIG BUDDHA DADDY'S ALL MALE STRIP CLUB have to do with anything? Get caught up in a multiple universe of scenarios with the fourth installment of our VOLUME ONE finale.  
WRITTEN BY
MAC WELCH
ILLUSTRATED BY
TONY PERRY
INKED BY
EMILY O'CONNOR
ALI SATTAR
COLORED BY
ZACK HELD
DANA MORGAN
MIKE HORTON
LETTERED BY
JEREMIAH JURKIEWICZ
JASON BAILEY
KEVIN VOSS
EDITED BY
MIKE HULL
PUBLISHED BY
BRENDA WELCH
THE ISSUE WAS RECORDED AT
PLAINTRUTH ENTERTAINMENT STUDIOS, NYC
http://plaintruthent.wix.com/recording
AND ENGINEERED BY
STEVE SOLA A.K.A. THE MIX KING, YEAH!!!