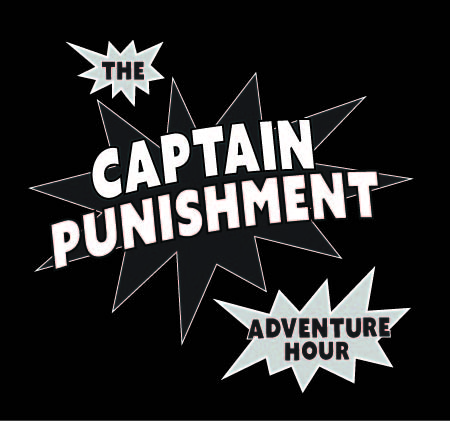 THE CAPTAIN PUNISHMENT ADVENTURE HOUR ALL GIRL SPECTACULAR
"LIVE FEM OR FEM HARD!"
IN THIS ISSUE:
Move over 'beef-cake' cuz here come the ladies! Oh no, all the male super-action heroes have disappeared from the SKAGG CITY COMIC CON. Now it's up to W.E.I.R.D. SPECIAL AGENT LARA LARDMAN to save the day. After chauvinistic acting mayor JEFF WELLS dismisses Lardman, the young agent forms a small team of super heroines to figure out the problem. This powerhouse group consists of sorceress supreme ALACASSANDRA ZACETTI, fire starter MISSY MCREEDY, her ice-wielding sister SISSY MCREEDY and new botany professor slash foliage manipulator GRANOLA BIRKINSTOCK. Also joining this motley crew is speedster SWIFT-ETTE WINDTHROP who has recently had a spell induced gender transformation. Throw in billionaire RONALD GRUMP and his "state-of –the-art" titanium armored warrior, THE MEXI-CANT and a visit by drug cartel lord EL ZAPATO and you have one heavily 'GIRL POWERED' spectacular. Get your COMIC CON PASS READY!
THIS ISSUE WAS:
WRITTEN BY
MAC WELCH
ILLUSTRATED BY
TONY PERRY
EMILY O'CONNOR
INKED BY
SEVANS MARTINEZ
DANIELLE HERNANDEZ
COLORED BY
DANA MORGAN
SAMANTHA BERGES
AMY HUGHEY
LETTERED BY
JEREMIAH JURKIEWICZ
ALI SATTAR
MIKE HORTON
EDITED BY
MIKE HULL
PUBLISHED BY
BRENDA WELCH
THE ISSUE WAS RECORDED AT
PLAINTRUTH ENTERTAINMENT STUDIOS, NYC
http://plaintruthent.wix.com/recording
AND ENGINEERED BY
STEVE SOLA A.K.A. THE MIX KING, YEAH!!!